Kitchen Kitten: Pappadeaux Salmon Yvette
YES.
I recently topped the charts and broke the internet with my recreated Salmon Yvette dish from Pappadeaux. I may be exxagerating, but there was no doubt that a lot of people enjoyed the look of the dish.
In all honesty, I love clean presentations, especially those where the sauce doesn't overpower the dish. But the hood obviously loves this one.
Kitchen Kittten is what I would like to call my Sasha Fierce to Beyonce. It's my sexy, sensual alter ego. As the brand, I use it to show the cooking process through tutorials, food porn, and products.
After posting this meal on my personal page, I received a LOT of feedback and requests for the fullr ecipe. What better way to start off the series of recipes than this dish?
BLACKENED SALMON + CRAWFISH (YVETTE) CREAM SAUCE
Prepare skinless filet of salmon by rinsing with cold water, and gently patting dry. (Dry thoroughly)

Drizzle drops of olive oil and coat filets by gently massaging. (See how we get sensual here!)

Take your spices and generously coat on both sides, patting in the seasoning gently. (I use: salt, pepper garlic powder, paprika, cayenne pepper, dried thyme, Cajun seasoning, and onion powder/a bit of whatever else I have at the moment).

On medium high heat, drizzle olive oil to coat pan. Sear salmon on both sides for 3-4 minutes (depending on thickness) allow it to form a golden crust. (Don't move salmon after placing it within the pan. This helps a good crust form).

Remove salmon and let rest aside. (If you want to cook the inside more, bake it in the oven for 5-6 minutes on 350 degrees)

Keep the same skillet you used for salmon (that's flavor), and add your diced onion. Saute these until translucent, then add your minced garlic and sun dried tomatoes. Let them blend together, then add your spinach and sliced mushrooms.

Saute all together until fragrant and well blended. Season with salt, pepper, and herbs.

Add 1/2 cup of white wine, or enough to cover vegetables. Let this cook the alcohol out, and thicken or reduce in size. (Sniff and smell the alcohol cooking out, it's dope)

Add your heavy cream, about a 1/3 to 1 cup. Let this come to a slow/steady boil and thicken. Add your cooked crawfish tails and season sauce. Let this cook and build a consistency about 4-5 minutes.

Turn off eat, add your parsley/herbs, and stir thoroughly. Make sure you taste and season accordingly.
(This was a different day, but the same sauce. I scorched the salmon with the skin on, rather than blackening it.)
CAJUN DIRTY RICE
Add your ground meat and Italian sausage to a skillet on med-high heat. Break down the meat to small pieces as it cooks. Add your seasonings: salt (be careful as pork is already salty), pepper, garlic powder, onion powder, paprika, and a dash of cayenne.

Remove meat once cooked through. In the same skillet, add finely diced onion, celery, and green bell pepper. Saute all the way down, sweating them all the way out.

Add meat back to skillet and blend thoroughly with vegetables. Season after tasting. Sprinkle 1 - 2 tablespoons of flour over ground meat (enough to lightly sprinkle the top of the meat). Stir and cook flour off, letting it bind to the meat. (This sounds weird but visuals will soon help)

Add chicken broth, enough to cover bottom of meat (1/2 cup), giving it enough liquid to build somewhat of a sauce. Add one large bay leaf.

Add cooked jasmine rice to skillet, folding/forking the rice into the meat. This is where it will take on the color and begin to resemble the final product.
PLATING
Place a bed of dirty rice on your plate, place salmon on top at an angle. Drizzle you sauce slowly and examine the way it falls. Continue building the sauce in the same direction, creating a puddle you can dip/scoop into later. Add fresh thyme for garnish or a bay leaf.
TIPS
Make sure you're smelling your ingredients along the way. This helps build your taste and smell coordination.

Take your time! Rushing your cooking process shows in the result. Take it slowly and be intentional in your learning.

Have confidence along the way. Cooking the dirty rice had me worried, and I wanted to just stop at a certain point, but it came out beautiful. Stay down!

YOUTUBE! Don't go into this recipe without YouTubing some tutorials of the meals components. Just get a good visual. I'll soon be giving that to you all.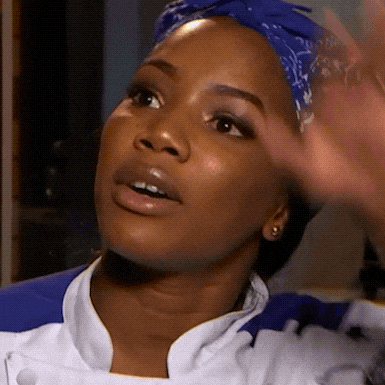 FOLLOW UP
Let me know if you try this recipe! I love seeing people's recreations. Let me know if this recipe was helpful, or any questions.
LOVE,